Calling all petrol heads!! Super Auto Mix will be happening on July 02-04 at the National Sports Complex, Bukit Jalil K.L.
Loads to see, loads to do!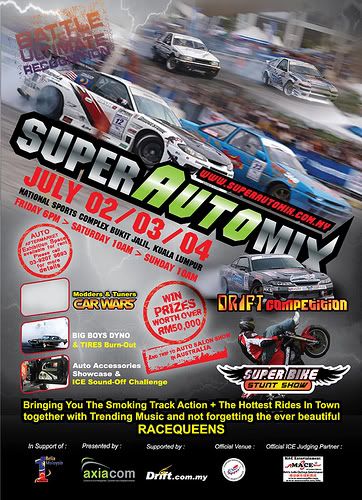 Date : July 2nd till July 4th 2010
Time : Friday 6pm till late
Saturday 10am till late
Sunday 10 am till late
Ticket Price : RM 18 (Pending confirmation) ( Special price for car clubs members )
This year the Team Cunningstunt (AUS) that will make their first appearance in Malaysia. They will be entertaining us with their much anticipated bike stunts and more!
There will be loads of activities going on such as Modders & Tuners Car Wars Competition , SuperAutoMix Drift Competition , SuperAutoMix Asean RC Drift Competition , Car Clubs Gathering and so many more fun-filled activities.
Among the categories that are being contested in
Modders & Tuners Car Wars
are :-
a) Best Sticker
b) Best Air Brush
c) Best I.C.E
d) Open VIP Style
e) Extreme Modified K-Car
f) Extreme Modified Proton
g) Extreme Modified Open
h) Big-Boys Dyno Challenge
i) Burn-Out Challenge
j) EuroDM *
k) Best Car Club **
l) SuperAutoMix Best Of The Best ***
New categories have been added to this year's event and also not forgetting the coveted Best Car Club title where it's every car club's wish to own.

Competition Entry is RM 200 per category .

Each participation are entitle to :
Certificate of Participation + Entry Sticker (on car) + Parking Pass (valid for car park B/C) + Goodie Bag (consist of Meals Voucher(lunch+dinner) for 2 pax for 3 days ; Competitor Tag + Lanyard ; T-Shirt(for final day wearing) ; Entry Passes for 2 pax for 3 days ; and many more ) Total value at RM 250.00

Autoshow Entry Form -
http://www.superautomix.com.my/pdf/superform1.pdf
Drift Entry Form -
http://superautomix.com.my/pdf/driftform.PDF
For More info -
Official Website -
http://www.superautomix.com.my/index.html
or
On Facebook -
http://www.facebook.com/pages/SuperAutoMix/118716981478294
or
On Twitter -
http://www.twitter.com/superautomix
* EuroDM only for European Car Maker
** Best Car Club Entry Fee RM 1,000.00 - 5 Cars per Entry
*** All competitor are entitle to a shot of glory in SuperAutoMix Best Of The Best